Japanese Chicken Curry Rice Recipe Japanese Curry Rice is one of the most popular recipe in Japan. Many people like it! Yes, kids to elderly. You can see many restaurants have this meal, and people cook at home, school lunch, Office lunch, even camping! It is very quick easy recipes, you should try!! It is very easy because you just need to buy a package of curry sauce in the cube. The Curry package is look like this..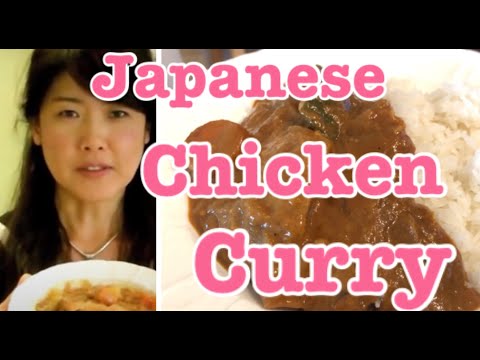 Ingredients: *Meat ——————————————1/3lbs (any kind, sea food is also good)
*Carrots —————————————-2
*Onion ——————————————1
*Potato —————————————–2
*2 or 3 Curry cubes from Curry package
*Garlic ——————————————4 cloves
*Water ——————————————3-4 cups
Cut vegetables like these pictures.  
If you want to have not so spicy curry,  cut onion smaller as possible and sauté good.

Curry will be sweeter.   If you like spicy,  don't cut small.
If you use ground meat,  the curry will be sweeter,  also.   This way,  you can cook this for Kids meal.  
Extra sweet?? Put corn! I cook meat first,  but if you use sea food,  put those last.   I will write here only meat version. After cook meat (I usually do half way done), put onion.   Then put other vegetables.  
When all vegetable are cooked,  add water.  
The amount of water is covering the vegetables and meat.
When water has boiled,  turn to simmer.   Then remove the skim that has formed.   Put curry cubes from the box. How thick the curry should be?   It depends on you but it is almost same as gravy sauce or little bit thicker.   So,  if you think cube is not enough to thicken,  put it more.   I recommend one by one.
Make sure not to burn the curry. It would be easy to burn if the heat is too high after you put cubes. Be careful!
My secret Japanese-Curry ingredient See?   Isn't it quick easy recipe??? Many people put their own secret ingredients.   Some put soy sauce,  honey,  chocolate,  grind apple,  ginger,  etc. I will tell you my secret; t his is my secret Japanese Curry recipe.   I put in ground garlic the last,  before turn off the heat. About 3 to 5 min cook with garlic before you turn off the heat.   I like to put a lot,  it makes a big different!   Try it!! Also, you may see the picture;  I use carrots that are the baby carrots from bag.   This way,  I don't need to cut carrots,  save some time. When you are cooking,  you may need to add some water.   Water level is almost covering all ingredients in the pan. Lastely,  put rice on the plate and curry over it! Ready to eat. By the way,  I think second day is much better taste.    🙂